Continuous Belt Type Automatic Vacuum Packaging Machine With Injection Printing System
J-V025P
Rotating Belt Type / Continuous Transmission Type / Conveyor Belt Type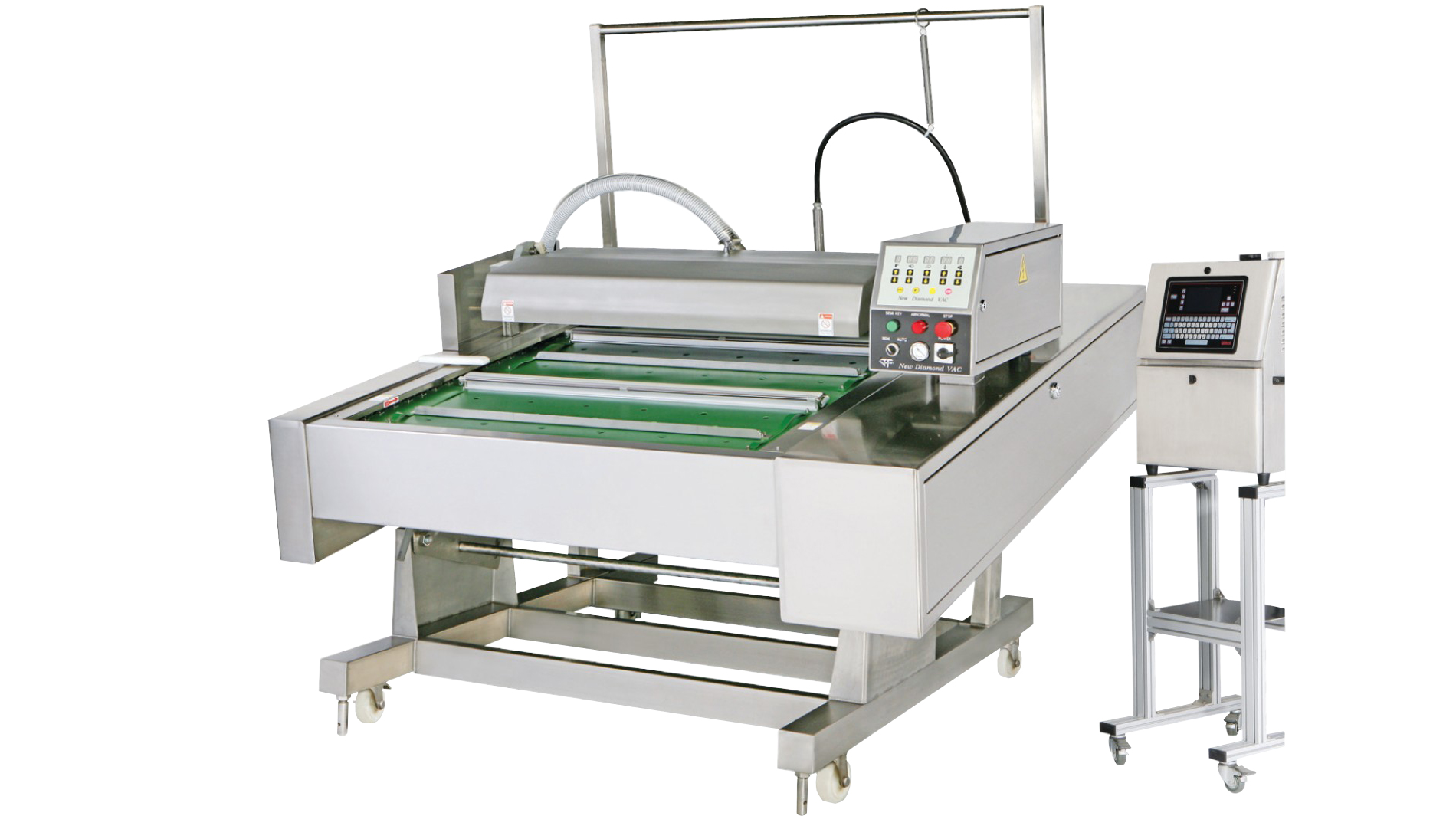 Machine Dimension : 1775 x 2110 x 2056 mm
Chamber Dimension : 1105 x 460 x 150 mm
Continuous Belt Type Automatic Vacuum Packaging Machine With Injection Printing System from Jaw Feng Machinery Co., Ltd. is made of stainless steel. One piece vacuum cover. Conveyor belt, chains, etc. are made of stainless. Maximum durability. Conveyor belt with automatic cleaning function, in line with food hygiene. In response to the size of various products, we provide you a variety of specifications. Gas flushing, water cooling are options. Suitable for 10-12mm sealing wire. Able to work with date and serial numbers injecting. Packing and printing all at once. Reducing manual work.
Specification
| | |
| --- | --- |
| Model | J-V025P |
| Machine dimension | 1775 x 2110 x 2056 mm |
| Chamber dimension | 1105 x 460 x 150 mm |
| Sealing length | 1050 mm x 1 |
Features
Complete stainless steel structure for maximum durability
Hygienic design, easy to clean
In case of packing plenty of liquid products, adjust the angle of the conveyor table to prevent the product overflowing
Stainless steel chain meets food sanitation requirements and ensures product quality
Highly efficient European vacuum pum
Microcomputer control system & electrical box are waterproof
Simple to operate microcomputer control system with multiple program setting options
The conveyor belt features automatic washing which is conveniently done by simply connecting it to a water hose
After vacuum process, the injection printing device can print data like manufacturing date on the packages. Complete the packing and the printing at the same time
Applicable for various mass production factories
Packaging Process
One line → Belt transmission → Vacuuming → Gas flushing → Sealing → Lid opening → Printing → End product discharge
Options
Special design is available for various product
Gas flushing, water cooling, cutting system (cut off remaining pouch)
Functions
Maintain food's freshness and original flavor
Prevent electronic and hardware parts from oxidization
Extend product shelf life
Available for special applications
Applications
Freshmeat, seafood, pickled vegetables, agricultural products, herbs, powder, spices, bean paste and prepared foods...etc.
Electronic parts, hardware products, medical instruments, medicine, ...etc.
Related Products

---
Best Sale
Continuous Belt Type Automatic Vacuum Packaging Machine With Injection Printing System | Vacuum Packaging Machine Manufacturer - JAW FENG
JAW FENG MACHINERY CO., LTD., since 1983, is one of the prime Continuous Belt Type Automatic Vacuum Packaging Machine With Injection Printing System | vacuum packing machine manufacturers and their vacuum packaging machine is sold to 120 countries worldwide.
JAW FENG provides customers an extensive range of vacuum packaging equipment | industrial vacuum packaging machines for food packaging, from a simple table top tray sealer, a vacuum tumbler to a complete vacuum packaging line. All industrial vacuum packaging machines are to increase production speed, prevent human error and make them long-lasting.
Tray sealing machine including seafood packaging, meat packaging, dairy products packaging to ready-to-eat packaging. Cost-saving vacuum packaging machine designing & manufacturing with 24hr PLC control system, BUSCH pump, 12-language control and high-quality imported components.
Along with food packaging, JAW FENG also supplies vacuum packaging machine for semiconductor, aircraft, firearm and telecommunication items.
JAW FENG has been offering customers high-quality vacuum packaging machines, both with advanced technology and 34 years of experience, JAW FENG ensures each customer's demands are met.