Single Chamber Vacuum Packaging Machine
J-V006W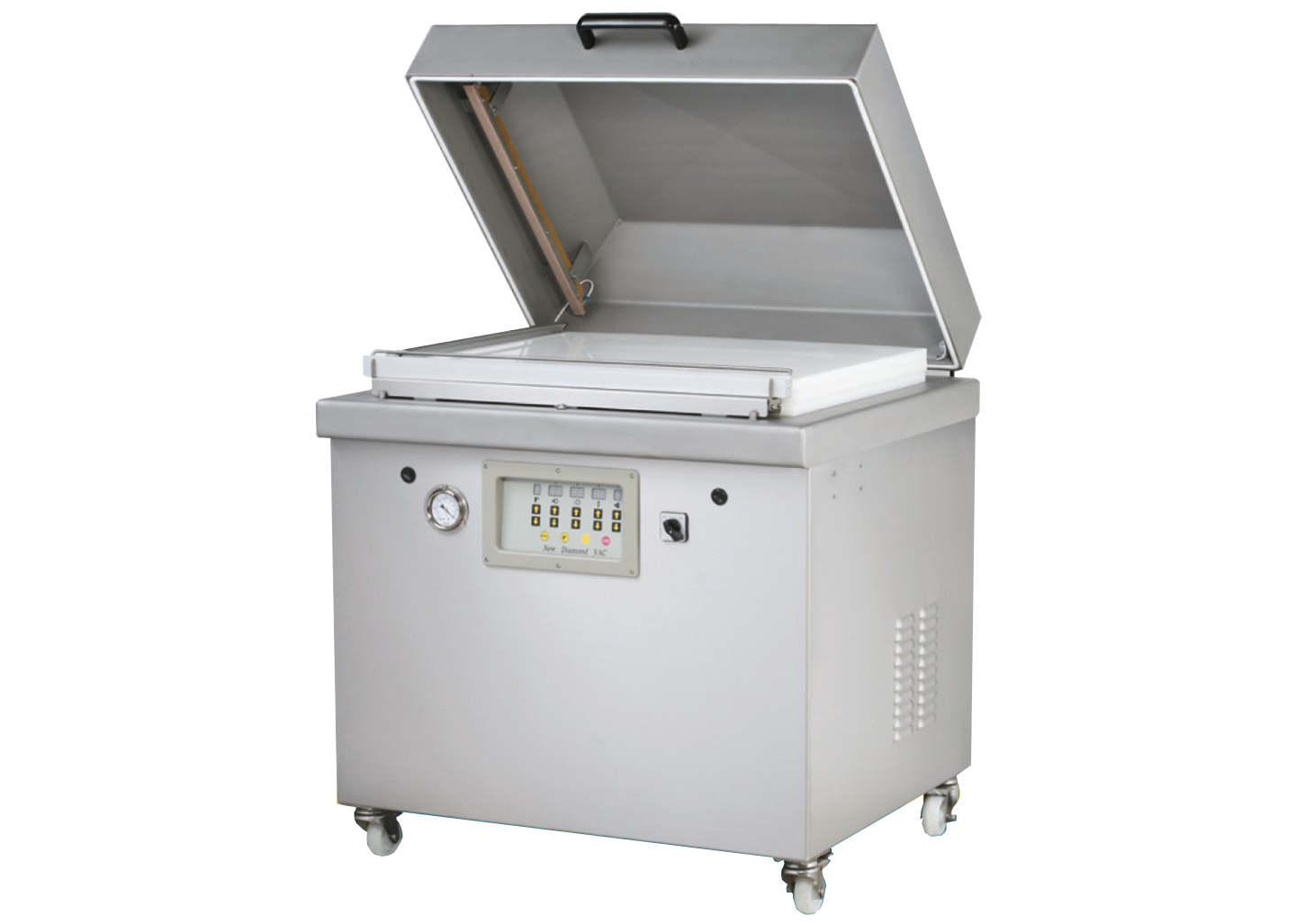 Machine Dimension : 920 x 800 x 1080 mm
Chamber Dimension : 840 x 710 x 230 mm
Single Chamber Vacuum Packaging Machine from Jaw Feng Machinery Co., Ltd. is made of stainless steel, in line with food hygiene and safety. Wheels are with brake. Waterproof digital display panel. Programmable for data up to 10 set-ups. Each group can operate individually. Electronic components are protected by waterproof electrical box. Durable working table surface. The vacuum cover's height can be based on the product's thickness. Providing flat plates to slightly adjust the height of packaging.
Specification
| | |
| --- | --- |
| Model | J-V006W |
| Machine dimension | 920 x 800 x 1080 mm |
| Chamber dimension | 840 x 710 x 230 mm |
| Sealing length | 800 mm x 1 / 610 mm x 1 or 800 mm x 2 / 640 mm x 2 |
Features
Complete stainless steel structure for maximum durability
Hygienic design, easy to clean
Highly efficient European vacuum pump
Microcomputer control system is waterproof
Simple to operate microcomputer control system with multiple program setting options
Flat deck construction ensures easy cleaning and product handing without space restriction
Vacuum chamber with solid height adjustable filler plates
Ideal for applications to production factories, research departements and laboratories
Options
Special design is available for various product
Chamber height 230mm
Gas flushing
Functions
Maintain food's freshness and original flavor
Prevent electronic and hardware parts from oxidization
Extend product shelf life
Available for special applications
Applications
Fresh meat, seafood, pickled vegetables, agricultural products, herbs, powder, spices, bean paste and prepared foods...etc.
Electronic parts, hardware products, medical instruments, medicine, clothing or blankets...etc.
Related Products

J-V006

---

Machine Dimension : 920 x 655 x 1031 mm Chamber Dimension : 840 x 556 x 180 mm

---

J-V007

---

Machine Dimension : 1000 x 655 x 1031 mm Chamber Dimension : 936 x 556 x 180 mm

---

---
Best Sale
Single Chamber Vacuum Packaging Machine - Single Chamber Vacuum Packaging Machine | Over 34 Years Vacuum Packaging Machines Manufacturer | JAW FENG
Located in Taiwan since 1983, JAW FENG MACHINERY CO., LTD. has been a vacuum sealing and packaging machine manufacturer. Their main packaging machines, include Single Chamber Vacuum Packaging Machine, Vacuum Packaging Machines, Vacuum Machines, Packaging Machines, Tumblers, Vacuum Massage Machines, Tumbler Machines, Ozone Sterilizing Machines, Ozone Machines and Sterilizing Machines, which are sold to 120 countries worldwide.
JAW FENG, since 1983, is a vacuum packing machine manufacturer that has sold vacuum packaging equipment including tray sealers, food thermoformers, ozone sterilizing machines, sterilizing machines to 120 countries worldwide. An extensive range of vacuum packaging machine for food, semiconductor, aircraft, firearm and telecommunication items. Industrial vacuum packaging machine from a simple table top tray sealer, a vacuum tumbler to a complete vacuum packaging line. Vacuum packaging machines are designed to increase production speed, prevent human error and make them long-lasting.
JAW FENG has been offering customers high-quality vacuum and sealing packaging machines, both with advanced technology and 40 years of experience, JAW FENG ensures each customer's demands are met.