Vacuum Massage Tumblers Machine
J-VM150
Marinating Vacuum Tumbler / Meat Vacuum Tumbler / Vacuum Mixer Tumbler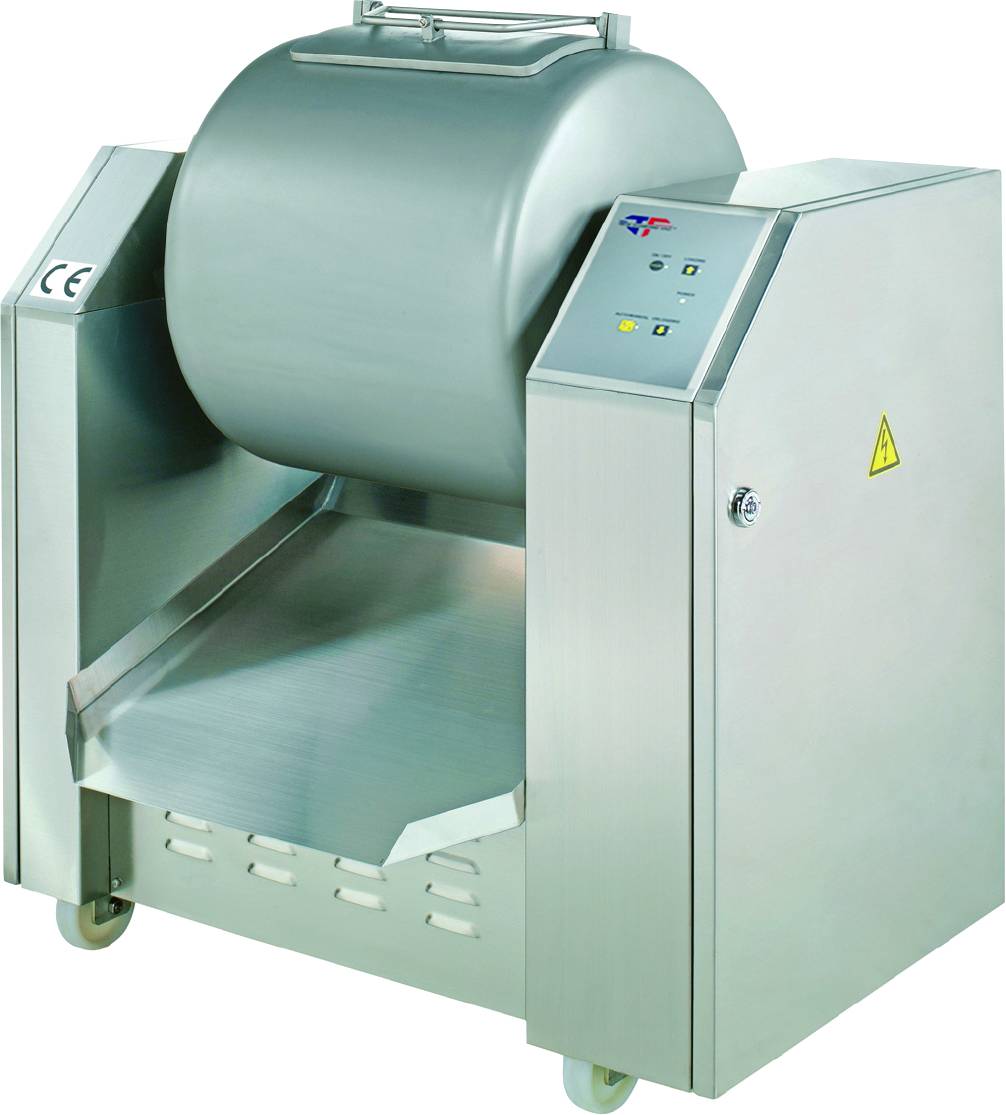 Machine Dimension : 1037 x 832 x 1235 mm
Vacuum Tank Capacity : 150 L
Vacuum Massage Tumblers Machine from Jaw Feng Machinery Co., Ltd. is made of stainless steel. This machine is for shortening pickling time while upgrading product freshness, increasing water content in pickles, maintaining tenderness and then improving product quality. This unit conforms to HACCP, easy to clean. It can adjust the speed. The time of vacuum, exhaust pressure and total time can be set as desired to fit various products' need. Easy and safe to discharge.
Specification
| | |
| --- | --- |
| Model | J-VM150 |
| Vacuum tank capacity | 150L |
| Machine dimension | 1037 x 832 x 1235 mm |
Features
Complete stainless steel structure for maximum durability
Hygienic design, easy to clean
Variable speed control system permits speed change as desired to suit various products
It is easy to operate, minimum trouble and allows for continuous 24-hour operation
Options
Special design is available for various product
Functions
For shortening pickling time while upgrading product freshness.
For increasing water content in pickles and maintaining tenderness
Applications
Fresh meat, seafood, agricultural products, prepared food, pickles and powdery products ...etc.
Related Products

---
Best Sale
Vacuum Massage Tumblers Machine - Marinating Vacuum Tumbler / Meat Vacuum Tumbler / Vacuum Mixer Tumbler | Over 34 Years Vacuum Packaging Machines Manufacturer | JAW FENG
Located in Taiwan since 1983, JAW FENG MACHINERY CO., LTD. has been a vacuum sealing and packaging machine manufacturer. Their main packaging machines, include Vacuum Massage Tumblers Machine, Vacuum Packaging Machines, Vacuum Machines, Packaging Machines, Tumblers, Vacuum Massage Machines, Tumbler Machines, Ozone Sterilizing Machines, Ozone Machines and Sterilizing Machines, which are sold to 120 countries worldwide.
JAW FENG, since 1983, is a vacuum packing machine manufacturer that has sold vacuum packaging equipment including tray sealers, food thermoformers, ozone sterilizing machines, sterilizing machines to 120 countries worldwide. An extensive range of vacuum packaging machine for food, semiconductor, aircraft, firearm and telecommunication items. Industrial vacuum packaging machine from a simple table top tray sealer, a vacuum tumbler to a complete vacuum packaging line. Vacuum packaging machines are designed to increase production speed, prevent human error and make them long-lasting.
JAW FENG has been offering customers high-quality vacuum and sealing packaging machines, both with advanced technology and 40 years of experience, JAW FENG ensures each customer's demands are met.